President Tshisekedi Reassures Rwandophone Tutsi Of Safety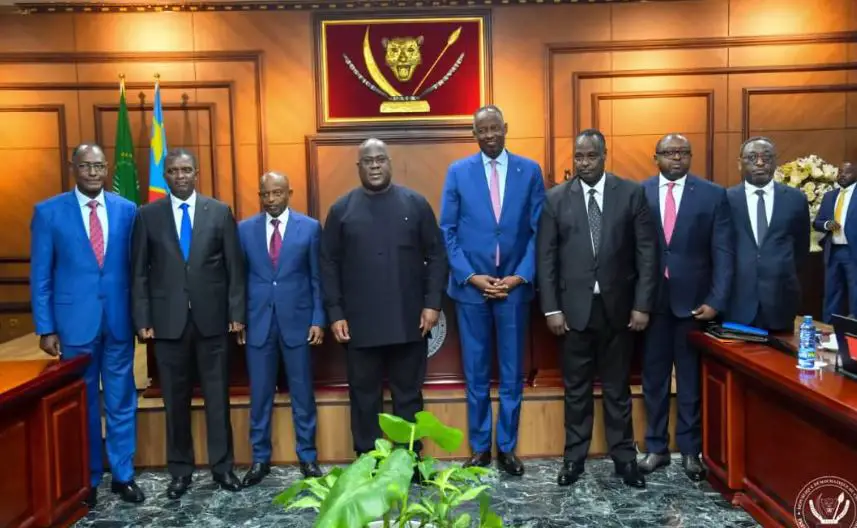 A delegation of influential Rwandan-speaking Tutsi congolese on Thursday walked into President Félix Tshisekedi's office in Kinshasa and pleaded for their safety.
The delegation was comprised of the former Vice-President of the Republic, Azarias Ruberwa, the current ITP Minister, Alexis Gisaro, Senator Moïse Nyarugabo among others.
With the ongoing war in the East of DRC, Kinyarwanda speaking congolese are living in fear as they are being targeted by other tribes accusing them of being alien.
Some Rwandaphones have been beaten, their shops looted some killed in revenge of M23 rebel advances. The rebels are mostly Kinyarwanda speaking and say they are defending themselves against segregation.
President Tshisekedi has also called on the congolese to refraine from any xenophobia towards a community. He also opposed any behaviour that borders on settling accounts.
"The President reassured his guests of his firm determination to see all Congolese, whatever their tribes or ethnic groups, live in cohesion, harmony and this, without the slightest discrimination, " said the Congolese presidential press.
According to the presidential press, this message, Felix Tshisekedi had also transmitted it to the community of Rwandophone Hutu Congolese whom he had received on Friday of last week.