Uganda's Cheptegei, 4th Man in History to Win 10,000M Gold 3 Times in Row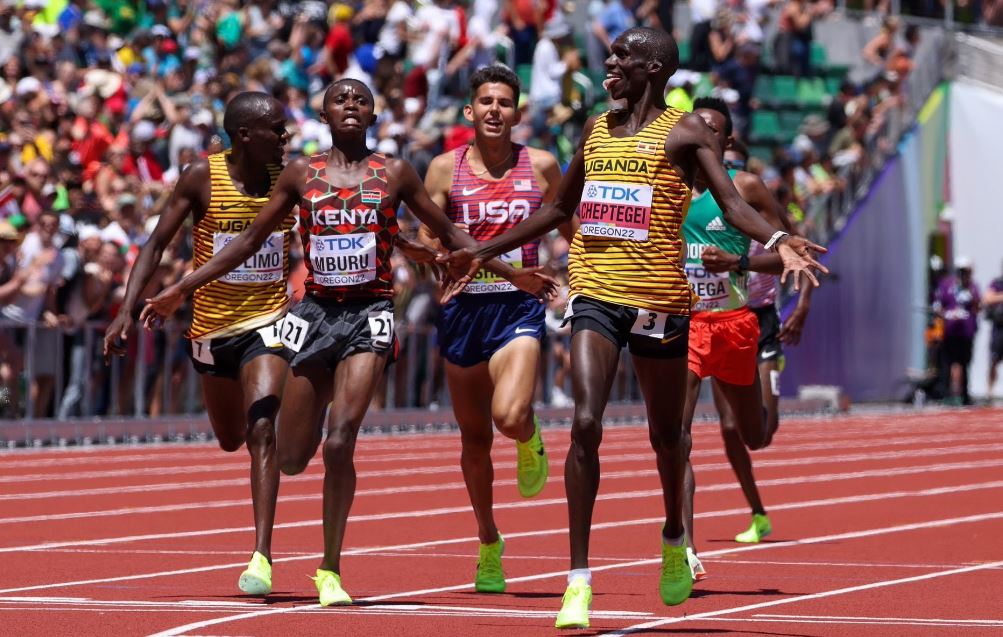 Joshua Cheptegei on Sunday became the 4th man in marathon history to win gold in 10,000 metres race three times in a row.
The world record holder over 5000m and 10,000m has had an injury-hit year and struggled to hit his top form but, on a hot, humid night in Budapest he broke clear approaching the bell and stamped his authority over the field with a 53-second last lap to come home in 27:51.42.
"3rd 10,000m World Title in a row and only the 4th man in history to do so! Congratulations," President Yoweri Museveni of Uganda congratulated the athlete.
"I am very excited and proud that I have succeeded in winning my third world title in a row. This might be my last championships on the track. That's why this gold medal means even more,"Cheptegei remarked at the World Athletics Championships Budapest 2023 in Budapest, Hungary.
Cheptegei, 26, only surged ahead in the final lap, comfortably securing the top spot, even if his time couldn't rival his world record of 26:11.00.
Kenya's Daniel Simiu Ebenso bagged the silver with a time of 27:52.60, while Ethiopian Solemn Brega clinched bronze just 0.12 seconds behind.
In the men's 100m, the flagship event of the World Championships, defending champion Fred Kerley faced an unexpected exit in the semifinals. However, his American compatriot Noah Lyles took the baton, recording this year's world-best time of 9.83 seconds.
"I came here for three golds, ticked off one, others are coming," Lyles commented, looking forward to defending his 200m title in Budapest. "The 100m was the toughest. I will have fun with the event I love now."
Botswana's U20 double world champion Letsile Tebogo secured silver, setting a new national record at 9.88 seconds. Britain's Zharnel Hughes trailed just behind.
Italy's Olympic victor, Lamont Marcell Jacobs, despite posting his season's best time of 10.05 seconds, couldn't make it to the final.
Local hero Bence Halasz electrified the home crowd when he hurled the hammer beyond 80m on his initial attempt. Nonetheless, Canadian newcomer Ethan Katzberg seized the lead with his 81.25m fifth attempt. Poland's Wojciech Nowicki also bested Halasz, recording 81.02m.
Halasz eventually settled for third with 80.82m, securing his second World Championships bronze.
In other events, Britain's Katarina Johnson-Thompson regained the heptathlon world title with an aggregate of 6740 points. Serbia's Ivana Vuleta clinched the women's long jump gold, marking this year's top global result of 7.14m.