Tour de France Selfie Fan May Be Dragged To Court For Causing Crash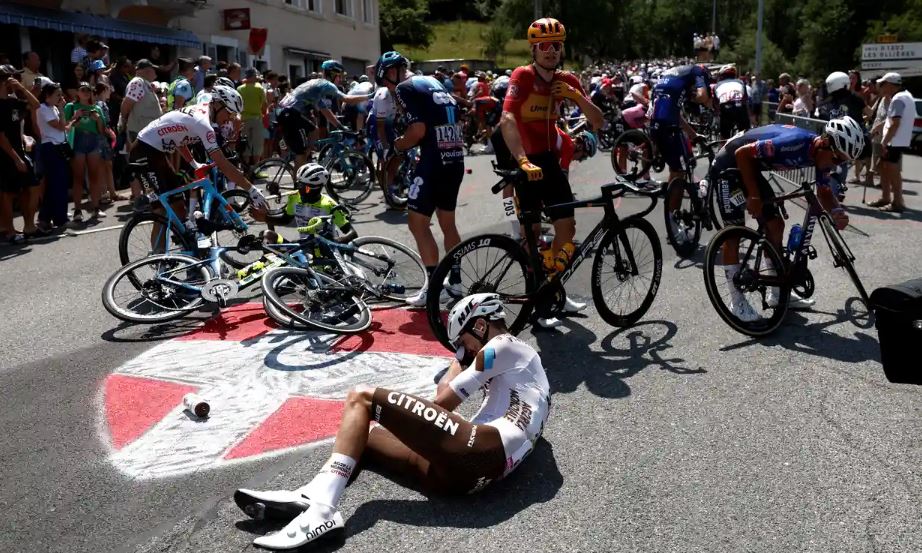 The team of the Tour de France leader, Jonas Vingegaard, are considering pressing charges after a spectator caused a massive crash during the 15th stage to Saint-Gervais Mont‑Blanc on Sunday.
One of the defending champion's key Jumbo-Visma teammates, the American climber Sepp Kuss, crashed after being caught by the outstretched arm of a fan as the peloton raced past.
Kuss's fall caused a domino effect through the peloton with multiple other riders also hitting the tarmac, in echoes of a similar incident caused by a fan with a placard, endured by the same team in the 2021 race.
the gendarmerie have identified the individual but will not arrest them unless Kuss wishes to take matters further. However, a spokesperson for Jumbo-Visma said: "The team might. We'll find out how and when."
The weekend's stages were marked by several incidents involving race motorbikes and overexcited spectators.
On Saturday, media motorbikes were slowed and hemmed in by large crowds at the top of the Col de Joux Plane and, as well as the mass fall on Sunday, the Latvian rider Krists Neilands also crashed while taking a drink from an in-race motorbike on a fast Alpine descent.
Team Cofidis were one of those to tell spectators that they "don't need a cellphone to make memories".
However, the Tour de France entered into a new partnership with the social media giant TikTok shortly before this year's race began and has actively encouraged fans to create content.
In a press release from 22 June, Julien Goupil, the media and partnerships director for the Tour promoter, ASO, described TikTok as a "perfect match" for the Tour and said "the content created at the roadside will enhance existing coverage and bring the public together around the event even more widely".
Conscious of the need for a younger demographic of fans and influencers, the Tour has been seeking to attract a new audience for several years and is itself extremely active on social media. Selfie sticks, phones and even rogue drones are also commonplace at the roadside, despite the Tour's best efforts to limit any interference in the racing.
But this is an impossible task. The Tour de France is a free, unticketed event that draws hundreds of thousands to the roadside, especially when it arrives in the mountains, where sleep-deprived fans camp out for days on end, living on a diet of sunshine, cheap beer and not-so-fine wines.
In reality, it is a health and safety nightmare and has been so for more than a century. The most renowned climb for spectator interaction is the hair-pinned ascent to Alpe d'Huez, where organised chaos somehow prevails as the riders pass through the sea of partying fans.