A new campaign has kicked off to raise awareness among Rwandan consumers to embrace consumption of nutritious Ultra Heat Treated (UHT) milk.
The awareness campaign has been launched by Tetra Pak Ltd, the world's leading food processing and packaging solutions company in collaboration with dairy processors. They have launched a campaign to raise awareness on UHT milk.
Tetra Pak Ltd Managing Director Jonathan Kinisu, noted, "availing the milk to consumers throughout the year will ensure that the population can access the nutritional benefits of safe milk. Milk as designed by nature is a highly nourishing beverage and well-rounded food source that enhances general health with nutrients such as calcium, high quality protein and essential amino acids. This will go a long way in building a healthy population."
Jonathan Kinisu was speaking during the launch held at Inyange Industries Ltd. He said that Tetra Pak Ltd seeks to 'Make food safe and available everywhere'.
The campaign which has been endorsed by Rwanda Food and Drugs Authority (FDA) aims at educating the consumers on the nutritional benefits of UHT milk usually processed at ultra-high temperature (UHT).
Processing UHT milk begins by rapid heating of milk to a temperature of at least 135°C, holding it for a few seconds, and then quickly cooling it down to ambient temperature. It is then packed in Tetra Pak aseptic packaging that keeps it safe with no need to add preservatives.
The Tetra Pak aseptic packaging consists of 6 layers which act as a barrier against air and light ensuring no microorganisms enter or grow in the product. Once the package is opened, the milk will be safe for consumption for three (3) days with refrigeration.
Jonathan Kinisu noted that UHT milk enables dairy processors to do a wider distribution of milk owing to the extended shelf life.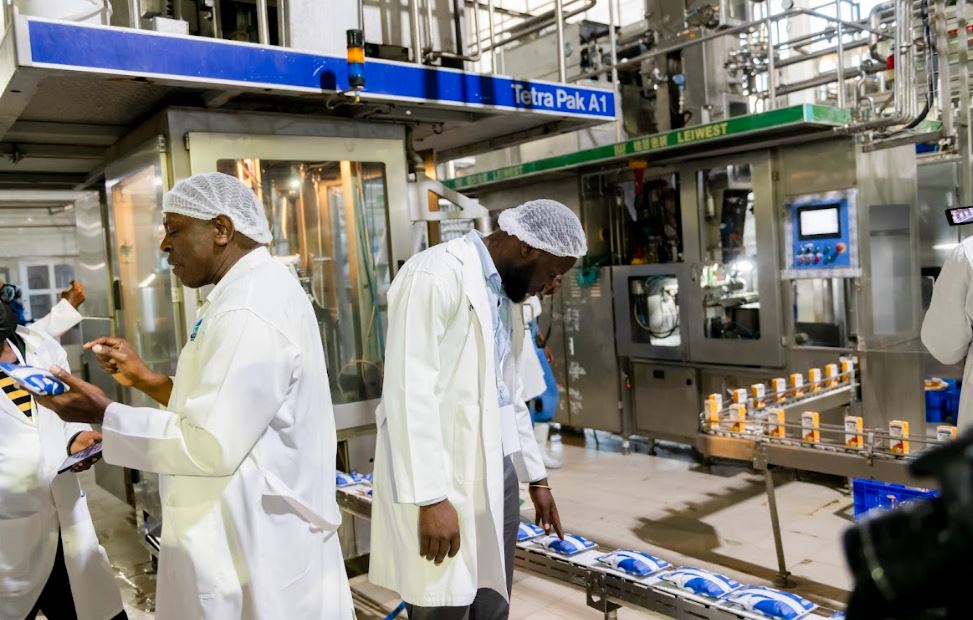 According to James Biseruka the managing director, Inyange Industries Ltd, "UHT milk ensures that as processors we can assure farmers of constant milk uptake due to the long shelf life of the UHT milk. In addition to this we are able to explore more export markets outside Rwanda as the distribution of the UHT milk is more affordable and convenient as it eliminates the need for cold chain distribution."
He emphasized that the growth of Rwanda's dairy industry would also provide job opportunities to many young Rwandans who will embrace agriculture as a business venture.
"If you analyze the market now, young people have shied away from the dairy industry due to the perception that it is not profitable.", he said.
Statistics from the Rwanda Ministry of Agriculture indicate that milk production has increased from 142,511 MT in 2005 to 999,976 MT in 2022.
The quality of dairy products is improving, the dairy sector is becoming more competitive, and there is increasing interest from foreign investors. Tetra Pak's collaboration with dairy processors in Rwanda is expected to have a positive impact on the economy of Rwanda.
The Rwanda dairy sector remains an important contributor to Rwanda's economic growth as it is estimated to contribute about 37% in the Agricultural sector, which in turn contributes an overall of 27% to Rwanda's GDP.