Rwanda and Cuba Agree To Strengthen Ties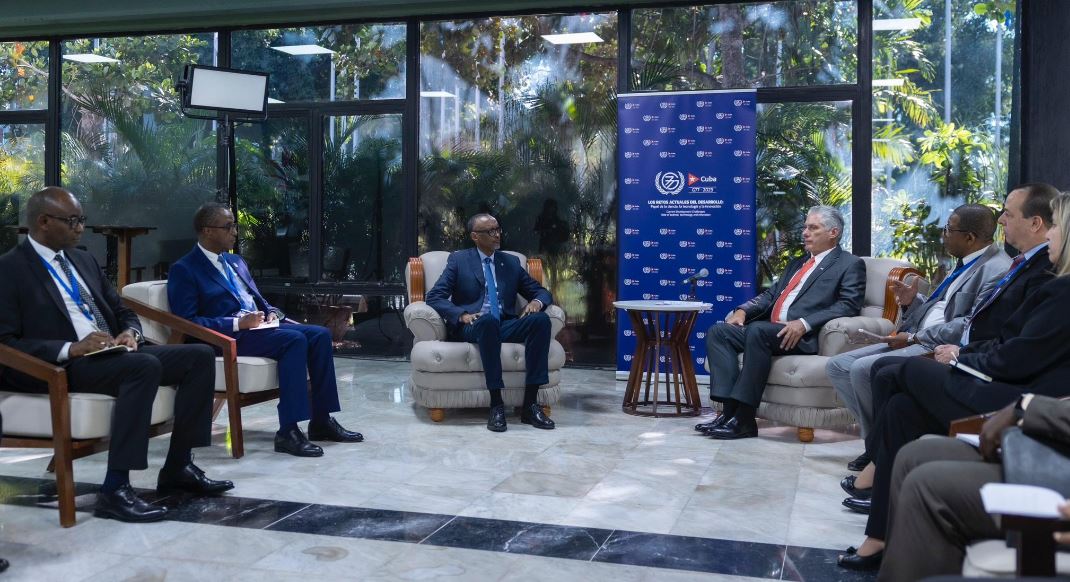 President Paul Kagame and Cuban President Miguel Díaz-Canel Bermúdez met this Saturday on the sidelines of the G77 + China Summit in the capital Havana.
"They had friendly exchanges on the shared history of both Rwanda and Cuba, including President Kagame training in Havana 36 years ago as a Rwandan refugee living in Uganda," The Presidency said.
"For me, coming to Havana, Cuba is something of a great memory because I was in this country in 1986 running to 1987. That is 36 years ago. I was a young officer, serving in a country that had given me a home as well which was Uganda. And I was here to do a course that was given to many Africans," President Kagame said on Friday.
"The Heads of State agreed to further strengthen bilateral ties including in the sector of education, health and trade," the Rwandan Presidency said after the meeting.
Rwanda and Cuba have been enjoying low key diplomatic relations, but with this meeting of the two leaders, the two countries are expected to deepen their cooperation.
It should be remembered that in 2010 Cuba sent to Rwanda a team of twenty nine Cuban volunteer specialist doctors under the arrangement of "South to South Cooperation" with Rwanda.
They remained in Rwanda for two years during which they treated over 500,000 patients from various hospitals across the country.
The Cuban Physicians also trained Rwandan medical practitioners.
Meanwhile, last year, HE.Tania Pérez Xiqués Cuba's ambassador to Rwanda with residence in Kampala, Uganda held talks with President of the Senate Dr Iyamuremye Augustin and the Speaker of the Chamber of Deputies Rt. Hon. Mukabalisa Donatille respectively.
Their discussions centered on strengthening bilateral relations and cooperation and both sides agreed to explore new areas of cooperation.
Relations between Rwanda and Cuba date back to 1979, especially in the education and health sectors.
According to Ambassador Tania Pérez Xiqués, Cuba and Rwanda have a lot in common, therefore they could learn from each other, and added that creating a friendship group would be an important step.