Russia's Top Diplomat On a Charm Offensive in Kenya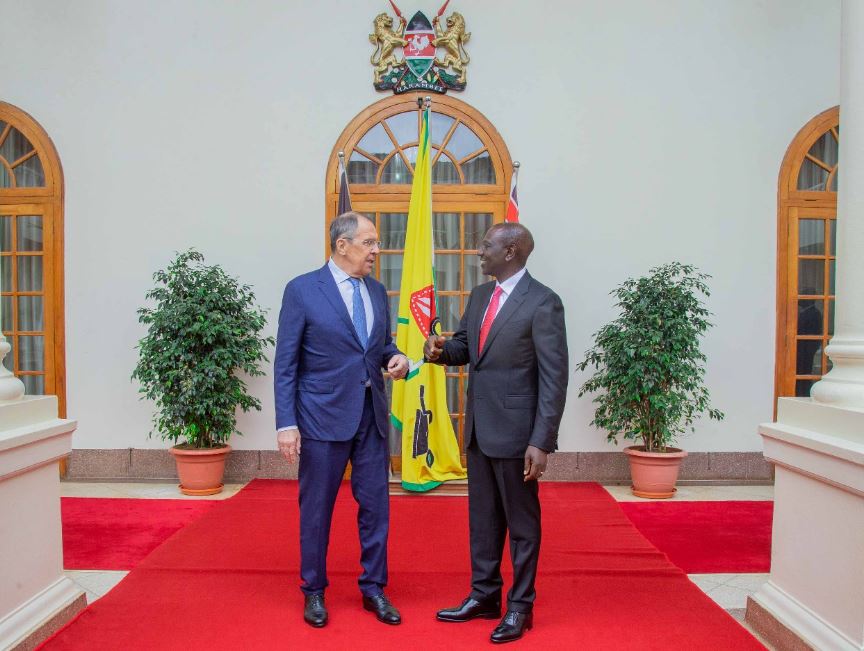 Russian Foreign Minister Sergey Lavrov on Monday arrived in Kenya on unannounced working visit where he met President William Ruto and other top State officials, before heading to South Africa for a BRICS meeting.
According to State House, Kenya will deepen its relations with Russia to increase trade volumes.
President Ruto said trade between the two countries is still low despite the huge potential.
He said the two countries will sign a trade pact that will give business the necessary impetus.
The visit comes just days after Ukraine's Foreign Minister Dmytro Kuleba visited Rwanda and other African states, urging member states to end their neutrality over the Russian war in Ukraine.
The tour also follows similar trips to South Africa, Eswatini, Angola and Eritrea in January and Mali, Mauritania and Sudan a month later.
"Happy to see Minister Lavrov in friendly Kenya," the Russian Embassy in Nairobi tweeted on Monday.
Moscow has been keen to re-establish its old Soviet ties with African states and buys influence in the continent as it presents itself as the alternative to perceived "self-interested" colonial powers such as the United Kingdom and the United States.
Over the past years, Russia has shown interest in scaling up the level of trade with Nairobi but contending with huge gaps in data on Africa and near entrenched influence from new players like China as well as its traditional rival, the US.
Russia is the fifth-biggest buyer of Kenyan tea but the war in Ukraine has cut the value of beverage exports to Moscow by Sh1.1 billion. Kenya imports iron and steel, wheat, fertilisers, paper and board, copper and oil from Russia.
Russia is the world's leading wheat exporter, Ukraine the fourth, and the commodity is ranked as the third-most consumed food in Kenya, behind milk and maize.
Data from UN Comtrade, a repository of international trade statistics, show Kenya's wheat and meslin imports from Russia were valued at Sh12.6 billion ($106.37 million) in 2021.
The Asian country is a key market for Kenya's Fuerte avocado variety, coming second in terms of purchases after the European Union bloc.
In April, Russian fertiliser that had been confiscated in Latvia due to European sanctions was exported to Kenya by the United Nations' food agency.
The consignment was seized last year after the European Union bloc placed sanctions on Russia following its invasion of Ukraine towards the end of February 2022.
The Latvian government described the shipments as a donation that it facilitated as support for the countries that have been affected by the food crisis triggered by the Russia-Ukraine war.