President Zelensky Goes to Frontline, Awards Troops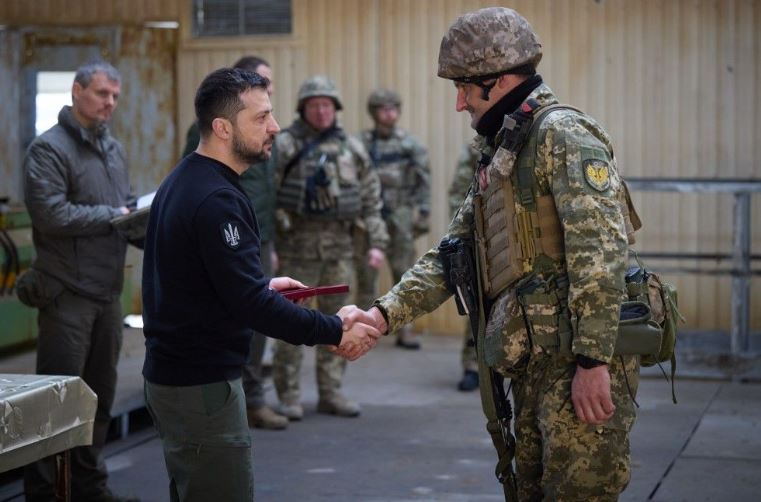 Ukraine's President Volodymyr Zelensky has visited the front-line city of Avdiivka, some five kilometers north of Russian-occupied Donetsk, the President's Office reported on April 18.
Zelensky met Ukrainian forces defending the city, awarding service members with state honors and thanking them for their service.
"I wish you nothing but victory – something that every Ukrainian desires and which holds great importance for all of us," Zelensky said.
Avdiivka has been a front-line city since 2014 when Russia occupied the regional capital Donetsk.
The industrial city, with a pre-war population of 32,000 people, is largely ruined. Less than 2,000 people remain in Avdiivka, according to Vitalii Barabash, the city's military administration head.
Zelensky visited Volyn Oblast in northwest Ukraine to discuss the socio-economic and security situations there, the President's Office reported on April 19. Volyn Oblast shares a border with Belarus.
Yurii Pohuliaiko, the head of the Volyn Oblast Military Administration, briefed Zelensky on defensive engineering structures and other fortifications that have been implemented to safeguard infrastructure in the region bordering Belarus and Poland.
Zelensky, Pohuliaiko, and other participants of the meeting discussed the issues faced by customs officers at the border, along with the State Emergency Service's work in protecting the civilian population.
While Belarus has not formally entered Russia's all-out war in Ukraine, Belarusian leader Alexander Lukashenko has permitted Russian troops to be stationed there and for Russia to launch missile and drone attacks at Ukraine from Belarusian territory.
Meanwhile, on Monday, Russian President Vladimir Putin met his generals in Russian-occupied Ukraine.
Putin's visit comes as Russian troops prepare for a spring offensive in eastern Ukraine.
In footage of the trip released Tuesday by the Kremlin, the Russian leader was shown meeting generals in military facilities in Ukraine's southern Kherson region and the eastern Luhansk region.
Putin first visited Ukrainian territory seized by Russia in its full-scale invasion last month when he flew by helicopter to the port city of Mariupol.
The officers with whom Putin was pictured in the footage from Luhansk and Kherson regions suggests that the president retains trust in the Armed Forces.