KOICA Rwanda, KORAA Collaborate to Empower Young Mothers in Bugesera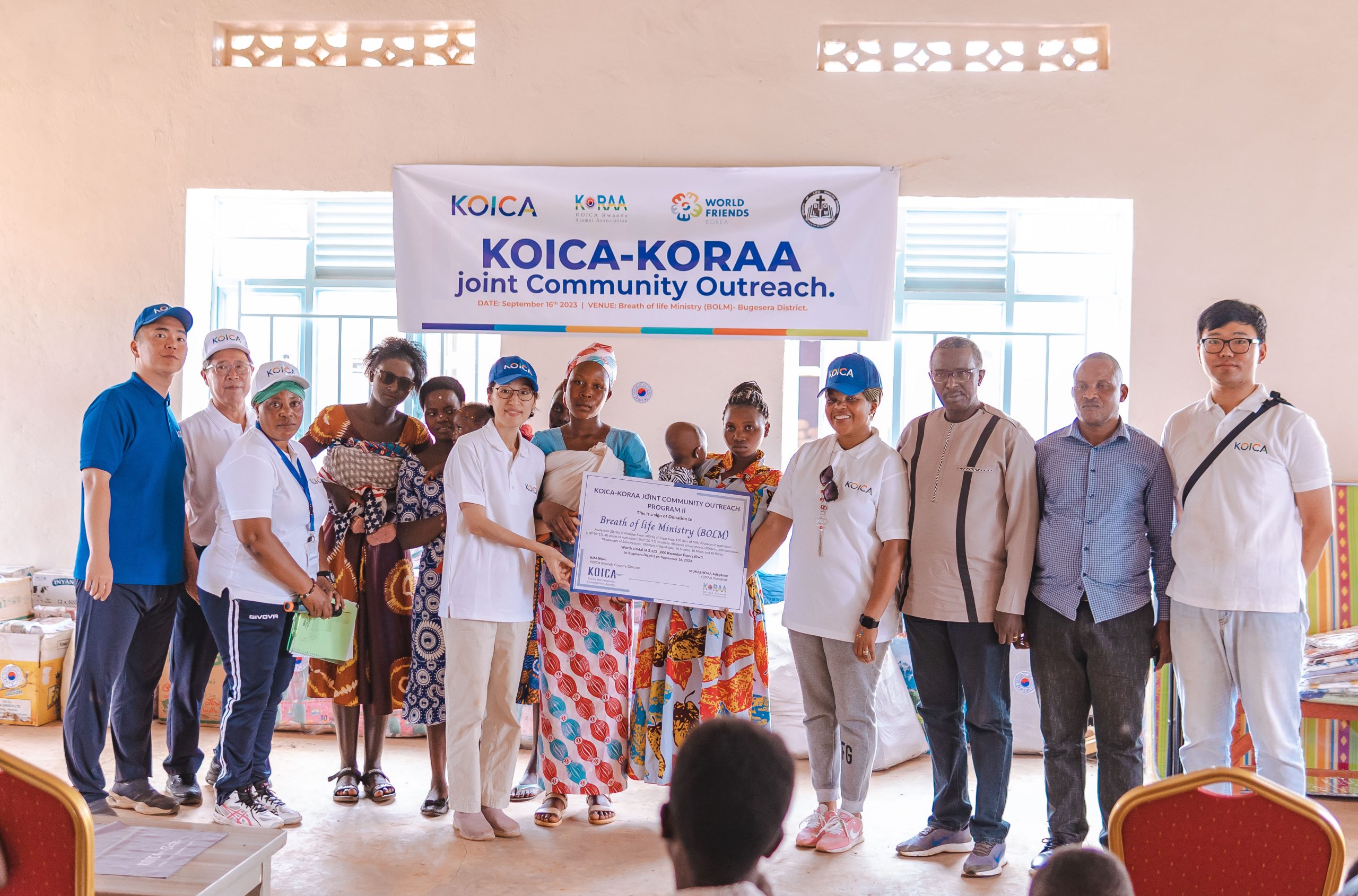 In a concerted effort to support Breath of Life Ministry (BOLM), established for the lives of young mothers in Bugesera-Musenyi, the Korea International Cooperation Agency (KOICA) Rwanda, in partnership with the Korea-Rwanda Alumni Association (KORAA), orchestrated a heartwarming event.
The event brought together a delegation of 50 volunteers from Rwanda and Korea, led by KOICA Rwanda Country Director, Mrs. KIM Jinhwa, and KORAA President, Mrs. Adelphine Mukashema.
The primary objective of this initiative was to provide essential support to adolescent mothers who embarked on motherhood at a young age.
Underlining their unwavering commitment to this noble cause, KOICA Rwanda and KORAA made substantial donations including food, educational materials, daily necessities such as mattresses, and cleaning supplies, with an estimated total value of US$4,000.
The event went beyond material assistance featuring a street cleaning activity symbolizing a collective determination to foster cleaner, healthier communities.
Moreover, children-based recreational activities were organized, offering hope and opportunities for a brighter future, even amidst challenging circumstances.
KIM Jinhwa, Country Director of KOICA Rwanda, underscored the significance of this event within the context of ongoing initiatives, stating, "Today's event bears significant meaning in the context of these ongoing initiatives, as it reflects our collective determination to make a meaningful difference in the lives of women and children in Rwanda."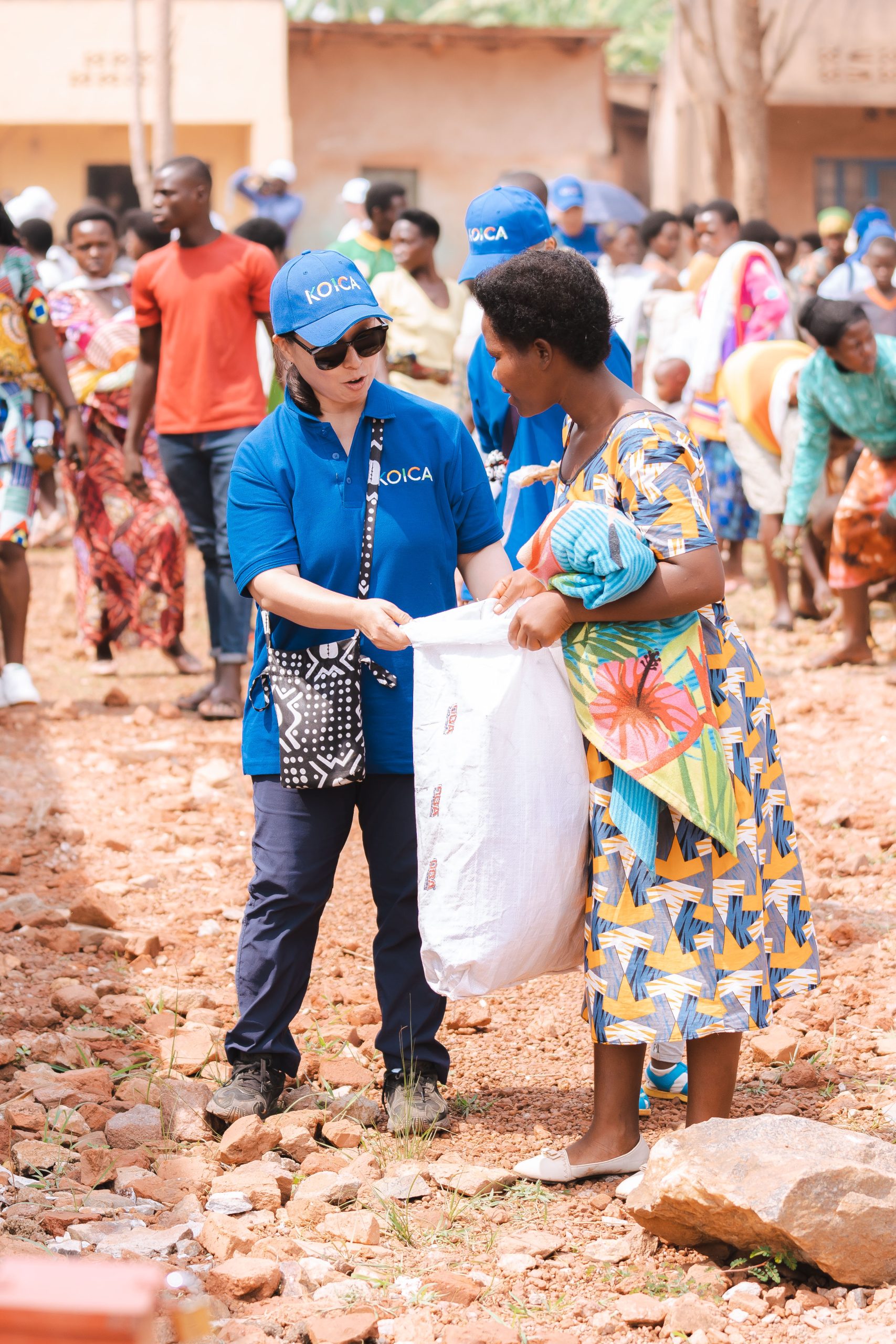 She expressed her gratitude to KORAA members, WFK Volunteers, and the local government for their valuable contributions and participation.
Adelphine Mukashema, President of KORAA, shared her aspirations for the young mothers, emphasizing the importance of community unity in paving the way for a brighter future. She also extended her appreciation to Breath of Life Ministry (BOLM) for their support and guidance.
The children-based recreation classes held a special significance, serving as a beacon of hope for young mothers and their children.
KOICA Rwanda and KORAA reiterated their commitment to empowering these young mothers through educational resources and nurturing their growth.
KORAA, which stands for the Knowledge Sharing and Networking Platform, plays a pivotal role in facilitating knowledge exchange among the Rwandan community, with a particular focus on public servants who have undergone the Capacity Improvement & Advancement for Tomorrow (CIAT) Program sponsored by KOICA.
This program encompasses both short and long-term capacity-building training as well as the KOICA Scholarship program.
KORAA serves as a gathering point for its members, fostering valuable networking opportunities, knowledge sharing and promoting humanitarian initiatives aimed at benefiting the community.
Established in 2001, KORAA has grown substantially over the years and now boasts a membership of over 1000 individuals. KOICA maintains a steadfast commitment to nurturing a robust partnership and collaborative relationship with the dedicated members of KORAA.
KOICA has a longstanding history of supporting Rwanda, with grant aid programs dating back to 1991, totalling approximately US$150 million across various projects and capacity-building programs.
In 2011, KOICA established its Rwanda Office and currently manages more than ten ongoing projects in the education, agriculture, and ICT sectors, reaffirming its dedication to Rwanda's development.