After Chandrayaan-3 & Aditya- L1, India will Send 6 Humans 6Km in Ocean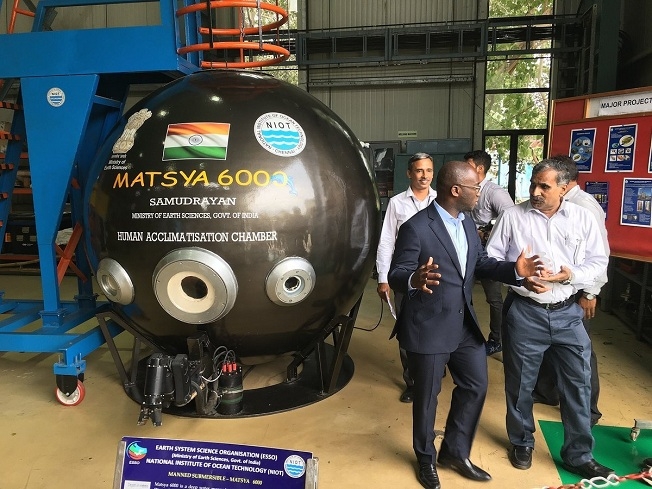 After susccessful soft landing on the moon, India has announced that it is preparing to send six humans 6km deep in the ocean for a scientific exploration.
This exploration mission dubbed Samudrayaan will be India's first manned deep ocean mission according to Union minister Kiren Rijiju.
Rijiju inspected 'MATSYA 6000', a manned submersible that will explore the depths of the Ocean as part of mission 'Samudrayaan'.
The submersible is being developed at the National Institute of Ocean Technology in Chennai. Once commissioned, three humans will be able to go in ocean depth to study the deep sea resources and biodiversity assessment.
"Next is Samudrayaan. This is 'MATSYA 6000' submersible (pictured above) under construction at National Institute of Ocean Technology at Chennai. India's first manned Deep Ocean Mission 'Samudrayaan' plans to send 3 humans in 6-km ocean depth in a submersible, to study the deep sea resources and biodiversity assessment. The project will not disturb the ocean ecosystem," the Minister of Earth Sciences said in a post on 'X'.
"The Deep Ocean Mission supports the 'Blue Economy' vision of PM @narendramodi ji, and envisages sustainable utilization of ocean resources for economic growth of the country, improve livelihoods and jobs, and preserve ocean ecosystem health," he said.
India took a giant leap on August 23, as the Chandrayaan-3 lander module successfully landed on the moon's South Pole, making it the first country to have achieved the historic feat and bringing to an end the disappointment over the crash landing of the Chandrayaan-2, four years ago.
The Chandrayaan-3 spacecraft is currently near the Moon's South Pole since its successful soft landing.
Weeks later, on September 2, the Indian Space Research Organisation (ISRO) launched the country's maiden solar mission — Aditya-L1 from the Satish Dhawan Space Centre in Sriharikota.