Russian President Vladimir Putin on Wednesday led his countrymen and women to mark the 78th anniversary of the Soviet Union's victory over Nazism.
"Civilization again finds itself at a decisive, critical moment. A real war has again been launched against our motherland," Putin told the assembled soldiers and guests on Red Square to mark Victory Day.
He attacked the West and claiming that Russia's future depended on the outcome of the war in Ukraine.
"We are proud of the participants of the Special Military Operation and everyone fighting on the frontline," he said, using the Kremlin's preferred term for Russia's war in Ukraine.
"There is nothing more important now than your military work. Today, the security of our country depends on you. The future of our statehood and our people depends on you."
"The Western globalist elite are still asserting their exceptionalism, playing off people against each other and dividing societies," Putin said.
"They are provoking bloody conflicts and coups, they are sowing hatred, Russophobia and aggressive nationalism, they are destroying traditional family values that make a human a human."
"It looks they [the West] have forgotten the consequences of the Nazi striving for world domination. They have forgotten who destroyed that monster, that absolute evil, who it was who stood up to protect their native land and did not begrudge their lives to liberate the peoples of Europe," Putin said.
And he was bitterly critical of Western countries, which have sent billions of dollars of military support to Kyiv as it resists the Russian invasion.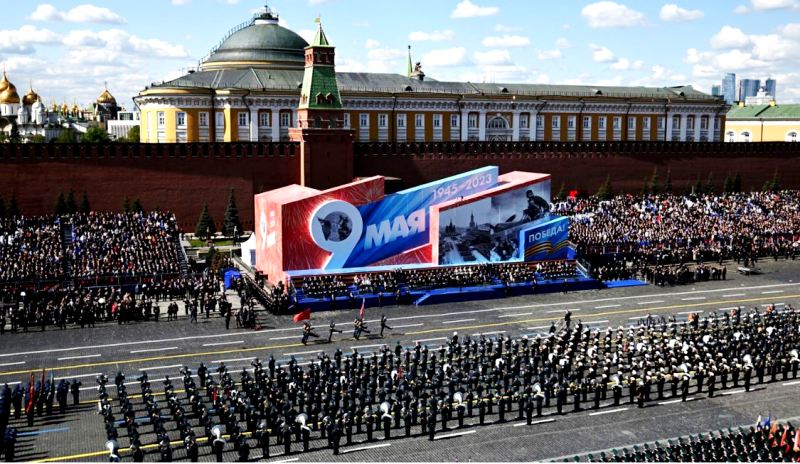 Meanwhile, the military parade passed off without incident. Traditionally during these celebrations, military parades have been canceled in over 20 Russian cities.
The Kremlin has traditionally used Victory Day — a national holiday — for bombastic events that promote patriotic unity and showcase the country's military might.
The celebrations were also attended by seven leaders of former Soviet republics: Armenian Prime Minister Nikol Pashinyan, Belarusian President Alexander Lukashenko, Kazakh President Kassym-Jomart Tokayev, Kyrgyzstan's President Sadyr Japarov, Tajik President Emomali Rahmon, Uzbek leader Shavkat Mirziyoyev and Turkmen President Serdar Berdimuhamedow.
Standing in front of military veterans, Putin delivered a speech that conflated the current war in Ukraine with the Soviet Union's victory over Nazism in 1945.