Messing With Rwanda's Sovereignty Can Deny You Sleep – Kagame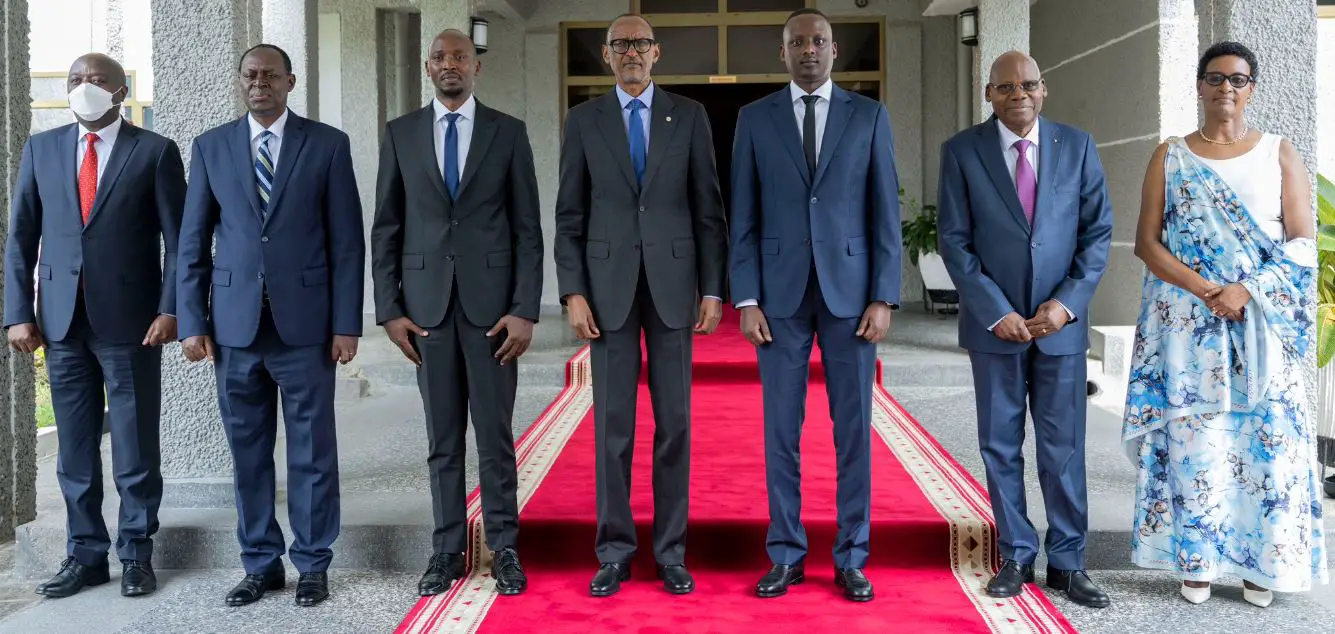 President Paul Kagame has cautioned against anyone tampering with Rwanda's sovereignty saying that would mean giving the offenders sleepless nights in their own territory.
The Rwandan leader made these remarks while presiding over the swearing-in ceremony of two new ministers at the country's national assembly on Wednesday.
In a tightly parked parliament attended by government officials, President Kagame warned that nobody should underestimate Rwanda because of its geographical and economic size.
President Kagame directly mentioned DRC in his speech accusing the vast and mineral rich neighbour not to ever make a mistake of violating Rwanda's territorial integrity.
For the past months, Kinshasa has been accusing Rwanda of supporting the M23 rebels who In late March picked up their guns and resumed fighting after years of silence as they waited for implementation of the Nairobi peace treaty signed in 2013. Kinshasa has not implemented anything in the peace deal paper.
In his speech, President Kagame cautioned those who choose blame games and not solutions in Eastern DRC.
"It has become so convenient for long that all problems [of DRC] are put on the shoulders of Rwanda. Rwanda is always the culprit in all this. It is not the FDLR, not the government of Congo that should be responsible for its problems and people, it is not the UN, not the powerful countries," Kagame said in a pin drop silent assembly.
According to Kagame, in comparison, Rwanda and DRC, there is much more. DRC offers these people more than Rwanda. So naturally these people must tread carefully when they are dealing with DRC's problems.They must even assist DRC to alleviate their pain by transferring the blame they should have and put it somewhere else. and the easiest place to put their blame is Rwanda.
At the beginning of November, DRC fighter jet Sukhoi-25 violated Rwandan airspace and weeks later a suspected Congolese Soldier crossed the border between the two countries and began shooting at guard towers and injured two border patrol policemen.
"He was shot dead by RDF patrol before causing any casualties," the Rwandan military said in a brief statement.
President Kagame on Wednesday cautioned DRC against trying to drag Rwanda into war, "We know what war means. If you are looking for somebody who knows a thing or two about it, please come to me. And by that, I know how you can't have something better than peace."
"Some people think we are short stems because of our geography. But they are so mistaken." President Kagame.
President Kagame also had some take home for critics that accuse Rwanda of siphoning DRC's resources.
Early in June, President Felix Tshisekedi accused Rwanda of trying to steal DRC's minerals and the same rhetoric was echoed again by DRC's Permanent envoy to the UN alleging without evidence that Rwanda was involved in 'stealing minerals, gorillas, and chimpanzees from DR Congo'.
"One thing we are not and that is what makes us [strong], we are not thieves. We work for what we have and what we get." President Kagame.
On November 28, President Kagame attended the EAC- led Nairobi Process for restoration of Peace and Security in DRC.
He noted that the crisis in DRC is negatively affecting trade and investment, preventing hundreds of thousands of Congolese refugees unable to return safely to their homes.
"The primary reason for this persistent crisis is the failure to implement many agreements that have been reached at various levels and at different times in past years. I most sincerely believe that this time around, these efforts are going to bear good results," President Kagame said.