The African Leadership University (ALU) has won the 2023 5th edition of the East African Universities' Debating Championship, a competition that brought together 17 universities from the East African Community (EAC).
The championship is to take place from 1st to 3rd September at the premises of Kigali Independent University (ULK) was organized by Aspire Debate Rwanda, a youth-centered and led non-profit organization founded in 2014.
The championship debate motions or topics were formulated around; Regional peace and security, Regional trade and economic development, Climate Change and Conservation, and Gender Equality within the region.
ALU Rwanda beat three other finalists in a debate on the topic of: & quot;the narrative that African youth will deliver the miracle that Africa deserves" where they argued on the importance of engaging youth in development of the region.
The 2nd place was won by United States International University-Africa (Kenya) who also got a 50% sponsorship scholarship to the next competition, while the 3rd place was taken by Strathmore University – Kenya.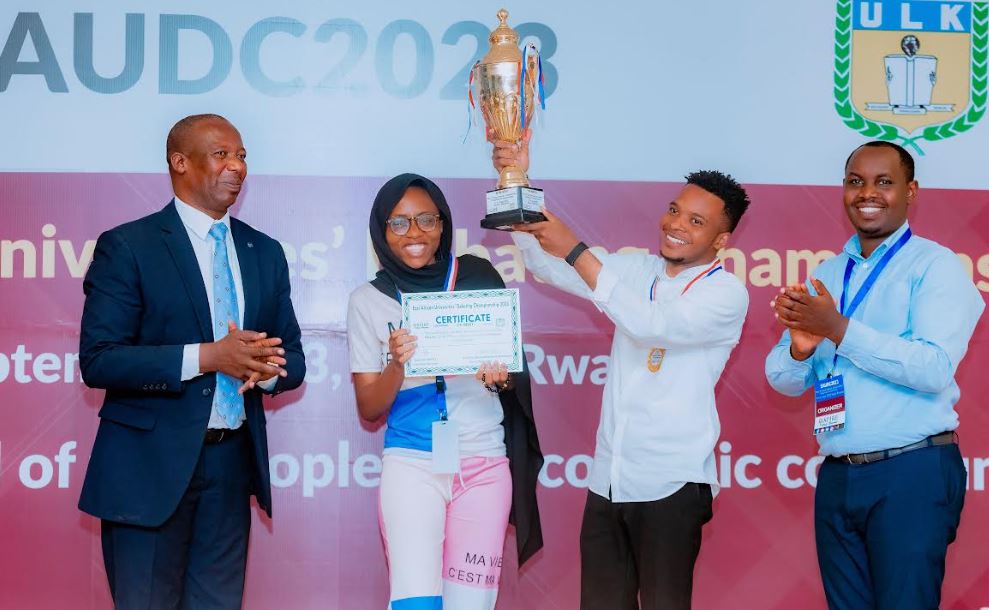 Officiating the finals, Prof. Dr. Innocent Nkundabatware, Vice Chancellor (VC) of the Independent University of Kigali (ULK) said the debates were a sharing and learning experience to improve the knowledge of university students in addressing social issues in their respective communities.
The participating university students took time off and visited the Kigali Genocide Memorial Site in Gisozi on September 3, 2023, where they were given a guided tour of the site, paid homage, laid wreaths on the graves where over 250,000 remains of the 1994 genocide against Tutsi.
At the site, the students from Uganda, Tanzania, South Sudan and Kenya said that it was a learning experience and a call to act to create peace so that genocide never happens again.
Simon Peter Kalisa, the Aspire Debate Rwanda official in charge of Debate Education said the debate enable youth engagement in the EAC policies and programs and it is aimed at bringing out good leadership skills, public speaking and also engaging youth in the people-led EAC integration agenda.
East African Universities' Debating Championship was founded in 2016, initiated by Aspire Debate Rwanda, a youth-centered and led non-profit organization founded in 2014.
In 2016 and 2017 the competition was held in Rwanda at the University of Rwanda (UR)-Remera Campus with support from the Ministry of East African Affairs attracting 12 and 17 universities respectively.
In 2018 it was hosted by Kyambogo University in Uganda with a cumulative figure of 24 universities participating and in 2019 it was held in Kenya hosted by Kenya Cooperative University.