Africa is still struggling to have it's desired say on global matters decades after it's independence from colonialism.
Experts describe this phenomenon journey as a junior position.
Dr. Donald Kaberuka, the Chairman and Managing Partner, SouthBridge, says that when Africa began it's journey of economic integration as part of the mission of the then Organisation of Africa's Unity (OAU), as a result, almost implicitly, it has accepted a junior degree of engagement with the rest of the world.
"Africa has accepted implicitly the place of junior partnership in international affairs," Dr. Kaberuka said yesterday while on a panel during the ongoing RPF-Inkotanyi International Conference and Congress, held under the theme "Reflecting on 35 Years and Beyond".
"It is that junior partnership which we have to deal with," he added, and went on to explain the underlying challenges that come along with this situation.
He said the European community, for example, sees Africa as a problem when engaging in discussions on shared challenges.
For example, he said, "when you talk to Europe, our neighbours, they always talk about three things; we need to deal with migration, we need to deal with China, we need to deal with Islamic radicalism."
He says instead of the conversations being about both European problems and African problems, it usually focus only on Africa.
He recalled a conversation he engaged in with an Italian about migration.
He reminded him that up until 1980, there were about 30 million Italians migrated out of Italy and 62% of Argentinas are of Italian origin.
Also, 2.3 million Italians live in Newyork. So, not only Africans are migrants as it is portrayed globally, but also Europeans. "You have problems, ans we have problems; let's discuss them together," he recalls telling him.
But for some reasons, he adds, whenever there is a discussion on any topic, whether on climate or migration, "we accepted a degree of a junior partnership…and that, we have to deal with, especially the young generation."
Why did he choose to raise this subject on such a platform? He explained that this is the time to begin laying a long-term strategy to fix it.
Looking at the recent chaotic global economy, "for countries like ours", he said, "you need a strategy…and here is what I mean: You don't need a strategy in the short-term. You need a strategy in the long-term."
He gave an example of the Chinese who plan for 50 years. While a strategy is useful tool to have in order to succeed, but in his point of view he says Africa needs an "existential strategy".
Dr. Kaberuka drove this philosophy after Africa's vulnerability was exposed by what he described as cynclonised problems in past two years, including the Covid-19 pandemic and the effects of the Ukraine-Russian war.
"Those of us who used to believe that international cooperation is available for us to resolve these issues, found out that it is at it's lowest when we needed it the most," the Rwandan celebrated economist, former Finance Minister, and the 7th President of the African Development Bank (2005-2015), noted.
As Chair of the Board of The Global Fund to Fight HIV/AIDS, TB and Malaria since 2019, and currently the African Union High Representative for Financing, the Peace Fund and COVID19 response, gave a testimony of how twisted international cooperation is when it comes to Africa's affairs.
He cited the difficulties Africa faced while trying to access Covid-19 vaccines.
"We were told vaccines will be there, and at the last moment, there were no vaccines, because every country was looking after itself," he revealed and  added that this scenario, "was a symbol of our expectations of what we call the international cooperation."
Subsequently, as a response, Rwanda, under President Paul Kagame, who is also Chairman of the RPF-INKOTANYI,  and attending the ongoing conference, made a decisive move, mobilizing global efforts together with a few pragmatic fellow African leaders to begin manufacturing of vaccines in Africa.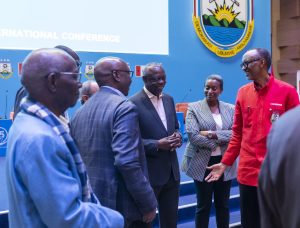 Bye bye Europe, hello Africa! The containers for our 1st BioNTainer just arrived in Kigali after a bit more than 24 hours of traveling by truck and plane. Thank you to H.E. President @PaulKagame, his ministers and teams as well as honorable guests. https://t.co/2y8Ph5XRUo pic.twitter.com/NSYipz2A9Y

— BioNTech SE (@BioNTech_Group) March 13, 2023
Dr. Kaberuka went on to explain how the global north is now focused on it's defense spending, energy independence and issues in Eastern Europe.
"I don't think the attention is focused on Africa at the moment. And for that reason, this issue of our junior partnership in that international system, is now an existential issue which we have to deal with."
The Conference continues today. Click on the Youtube link below to watch yesterday's sessions.