Ukraine Top of the Agenda During EPC Moldova Summit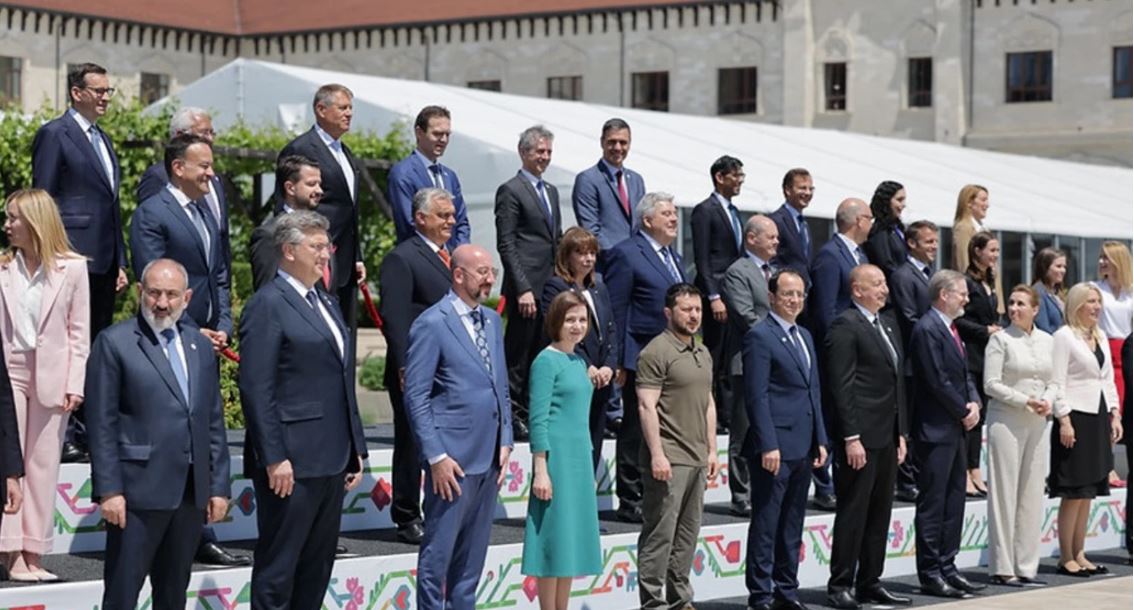 President Zelensky arrived on Thursday, June 1, for the second meeting of the new European Political Community.
The one-day gathering of almost 50 European leaders, was held at a castle in Bulboaca, Moldova only 13 miles from Ukraine's western border.
The proximity to the war zone was exemplified by the fact that, overhead, NATO-assigned aircraft from the US, UK and France provided air borne security.
Ukraine was high on the agenda, both at the formal meeting and those held on the side-lines that President Zelensky held with European leaders to press Ukraine's justification for continued support, both in the present and future.
While in the eyes of some analysts the EPC has little real value, the diplomatic investment to get the gathering of up to 50 leaders, including those of non-EU and non-NATO European nations to a castle 13 miles away from an active war zone suggests that European leaders do consider it to be significant.
Kaja Kallas, the prime minister of Estonia, said the meeting was "a signal that multilateralism actually works, and also that we are behind Moldova and we are behind Ukraine.
She added: "As soon as Putin realizes and Russia realizes they made a mistake with the war in Ukraine, the war will be over."
Right from the start, standing alongside Maia Sandu, the Moldovan president and host, Zelensky called for further security guarantees to protect Ukraine and Moldova, from continuing Russian aggression until Kyiv could finally join NATO.
"Ukraine is ready to be in NATO. We're waiting [for the day] when NATO will be ready to have Ukraine," he said. "I think security guarantees are very important not only for Ukraine, [but also] for our neighbors Moldova, because of Russia, their aggression in Ukraine and potentially in other parts of Europe."
He added that while full membership of the alliance was the "best" option for Ukraine he was hoping for "a clear signal that security guarantees remain until Ukraine joins NATO."
During a group discussion with leaders from the UK, the Netherlands, Denmark, Belgium, Poland and Sweden there was a consensus that, now the US had agreed, efforts were underway to ensure that Ukraine could receive delivery of F-16 fighters before the end of the year, possibly provided initially by the Netherlands and Denmark.
Asked to comment on the discussions, Mateusz Morawiecki, the Polish prime minister said "It went very well. We all agreed all the next steps." He added that there would be training not only for pilots but also in the wider areas of "logistics, maintenance and introducing [the fighters] into the Ukrainian aircraft [maintenance and logistics] system."
Asked for his comments, Zelensky agreed it had been encouraging but said he continued to ask allies to provide Patriot missiles to fill the gap before the F-16s arrived. This would be part of a future "sky shield" protecting the whole of the European continent.
"Why Patriots?" he asked. "Because Patriots have shown the world, they can take down any type of Russian missile."
The U.K. Prime Minister, Rishi Sunak said that Ukraine's "rightful place is in NATO", adding: "We want to make sure we put in place security arrangements for Ukraine for the long term so we send a very strong signal to Vladimir Putin that we are not going anywhere, we are here to stay and we will continue backing Ukraine."