Rwanda Legal Fraternity Gains 231 More Lawyers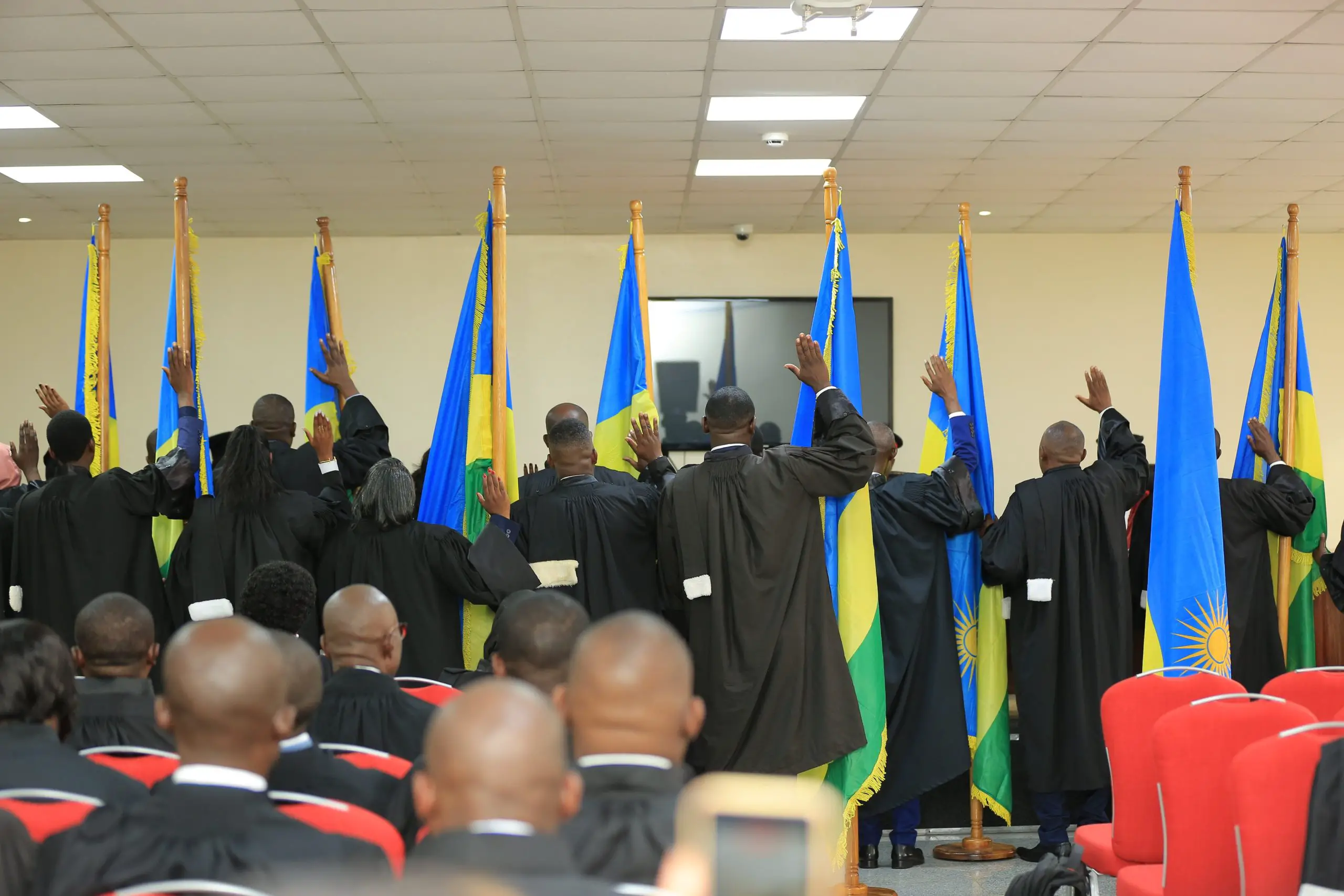 If economic terms such as demand and supply are applicable in all spheres of life, then Rwandans might begin enjoying affordable legal services as opposed to existing hefty fees.
On Friday, January 27, 2023, the Rwanda Bar Association ushered more than 200 new lawyers into the stone age profession after a colourful traditional ceremony of swearing-in.
"You are all welcome to this noble profession, we wish you all the best as you start this professional journey," the President of RBA, Me. Moise Nkundabarashi, told 231 fresh legal practitioners after taking their oath.
He told them that the legal business nowadays needs specialized lawyers that provide quick solutions to various problems.
"As you start your practice, think about that and uphold excellency to be the best at what you do. Good luck to everyone."
But that wasn't enough. He quickly warned them of possibilities of falling into common traps.
"Please note that this profession has rules and regulations that you should respect," he said and added that, "Avoid any conduct leading to corruption, and uphold humanity in every file you will handle."
The RBA has about 1730 members so far. Membership is made up of all practicing advocates, as required by law, and the interns who aspire to be enrolled after two years of internship.
The association fulfills the role of legal representation and regulation for its members and plays a key role in the administration o justice for a strengthened rule of law in Rwanda.
All members must undergo a mandatory induction program with the national Institute Of Legal Practice And Development (ILPD).
For foreigners, even those who were not trained under the common law jurisdiction like Rwanda, once they meet the membership criteria, can be accepted, but a principle of reprocity must be applied.
If Rwandan lawyers cannot be allowed to practice in a particular jurisdiction, then lawyers from that country cannot also be admitted in the Rwandan bar association.
There is a common and unpleasant scenario in Africa. Jurisdictions with common law training are prohibited from practicing in jurisdiction under civil law or statutory law and vice versa.
"We (Rwanda) are becoming a pan-African bar, not yet sure but we might be the only one that has foreign members and with training under civil law or statutory law, as long as they meet the criteria," Nkundabarashi told Taarifa.
"Lawyers in from London can practice in Paris and Lawyers from Paris can practice in New York, but us in Africa are still stuck in old-fashioned prohibitive practices," he said.
"Even Ghanaians who were trained in Rwanda cannot be admitted to their own association, that's how backward we still are…but in Rwanda, we have abolished that practice. As long as a bar association of another country accepts our Lawyers, we extend the same favour."